The 3 Most Important Questions to Ask Yourself | Inspirational tale of the week
The 3 Most Important Questions to Ask Yourself | Inspirational tale of the week
The 3 Most Important Questions to Ask Yourself | Inspirational tale of the week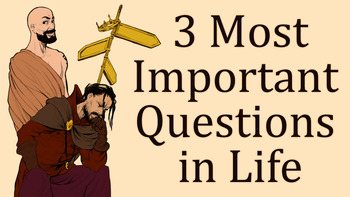 Equally various were the answers to the second question. To the third question, as to what was the most important occupation, some replied that the most important thing in the world was science.
All the answers being different, the King agreed with none of them and gave the reward to none. The hermit lived in a wood that he never quitted, and he received none but common folk.
So the king put on simple clothes and, before reaching the hermit's cell, dismounted from his horse. Leaving his bodyguard behind, he went on alone.
When the king approached, the hermit was digging the ground in front of his hut. Seeing the king, he greeted him and went on digging. The hermit listened to the king but answered nothing.
He just spat on his hand and recommenced digging. «You are tired,» said the king, «let me take the spade and work awhile for you». When he had dug two beds, the king stopped and repeated his questions.
« If you can give me none, tell me so, and I will return home». «Here comes someone running,» said the hermit. The king turned round and saw a bearded man come running out of the wood.
The man held his hands pressed against his stomach, and blood was flowing from under them. When he reached the king, he fell fainting on the ground, moaning feebly.
The king and the hermit unfastened the man's clothing. The king washed it as best he could, and bandaged it with his handkerchief and with a towel the hermit had. The king brought fresh water and gave it to him.
Meanwhile, the sun had set, and it had become cool. So the king, with the hermit's help, carried the wounded man into the hut and laid him on the bed. «You do not know me, but I know you.
I am that enemy of yours who swore to revenge himself on you because you executed his brother and seized his property. I knew you had gone alone to see the hermit, and I resolved to kill you on your way back.
But the day passed and you did not return. I wished to kill you, and you have saved my life. Now, if I live, and if you wish it, I will serve you as your most faithful slave and will bid my sons do the same. »
The hermit was outside, on his knees, sowing seeds in the beds that had been dug the day before. «How answered? What do you mean?» asked the king.
«Do you not see?» replied the hermit. « So he was the most important man, and what you did for him was your most important business. »