Gratitude Mindfulness Meditation | Path 2 Inspiration
Gratitude Mindfulness Meditation | Path 2 Inspiration
Gratitude Mindfulness Meditation | Path 2 Inspiration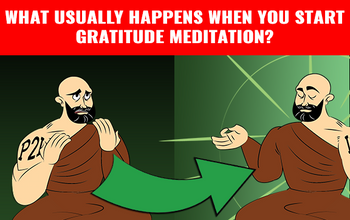 What (usually) happens when you start a gratitude meditation. At first you can't find things to be thankful for, or the things you say thanks for don't resonate with you. It's all good.
Perhaps you are stuck in a rut and your life is all dark and gloomy. We all have to start somewhere and you my friend might be starting at the best place. Now you close your eyes and start thanking all your body parts one by one.
Acknowledging how functional and essential they are to your life. Then you start being thankful for your bed, for your food, for the abundance of air to breathe. For the people whom you care about and who care about you, for the bird chirping outside of your windows, for the blue skies, for the beautiful smile given to you by a stranger...
Slowly your list of things to be thankful about will increase and the list of things to complain about will decrease. Now more and more you will feel this zest and gratitude for life. A warm feeling will often go and pervade your heart, body, and mind.
Congratulations, now you truly understand what being thankful really is.