Letter Of Gratitude To My Mother
Letter Of Gratitude To My Mother
Letter Of Gratitude To My Mother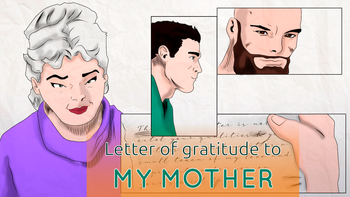 Dear Maman, As you are about to wake up and celebrate your 60th birthday. I look back on those 28 years spent at your side. From the moment I had the joy of seeing your beautiful smile till now.
You have not aged a day. Your beauty only surpassed by your kindness. Your kindness ever soothing my brothers and me. Through thick and thin your love has never wavered.
Never letting us sail adrift, always keeping us afloat even when times were hard for you. We were your priority and those 28 years have been nothing short of a miracle for me.
Having been embraced by your love, I count myself as a lucky man for I had the love & care of an amazing mother. Beautiful you are. Wonderful you will always be. My greatest suffering was making you cry..
My greatest blessing was having you as a mother... This short letter is not to extol your qualities & your virtues as much as it is a small token of my love and appreciation for you on your special day.
There is no way I can pay you back but the plan is to show you that I understand. A gift of words and the meaning they hold from my heart to yours.
Forever grateful. Forever appreciative. With love. With tears. With melancholy. With everlasting unconditional love. Please accept my words & wishes for your 60th birthday. Only through the eyes of a mother can you truly realize what love is. Happy birthday