Positive forgiveness | Inspirational tale of the week
Positive forgiveness | Inspirational tale of the week
Positive forgiveness | Inspirational tale of the week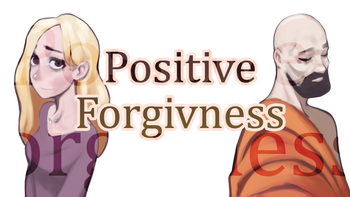 This is a true story from one of Ajahn Brahm's book. Forgiveness might work in a monastery, I hear you say, but if we give that sort of forgiveness in real life, we'll be taken advantage of. People will walk all over us - they'll just think we're weak. I agree.
Such forgiveness rarely works on its own. As the saying goes, "He who turns the other cheek, must visit the dentist twice, rather than once!" I call such forgiveness "positive forgiveness."
"Positive" means the positive reinforcement of those good qualities that we want to see appear. "Forgiveness" means letting go of the bad qualities that are part of the problem - not dwelling on them, but moving on.
For example, in a garden, watering only the weeds is like cultivating problems; not watering anything is like practicing only forgiveness; and watering the flowers but not the weeds would be "positive forgiveness."
Some ten years ago, at the end of one of our Friday night talks in Perth, a woman came up to speak with me. She had been regularly attending these weekly talks for as long as I could remember, but this was the first time she had spoken to me.
She said that she wanted to say a big thank you, not only to me but also to all the monks who had taught at our center. Then she explained why. She had begun coming to our temple seven years previously.
She wasn't all that interested in Buddhism at that time, she confessed, nor in meditation. Her main reason for attending was as an excuse to get out of her house. She had a violent husband.
She was a victim of horrendous domestic violence. In those days, support structures just weren't available to help such a victim. In such a cauldron of boiling emotions, she couldn't see clearly enough to simply walk out forever.
So she came to our Buddhist center, with the idea that two hours in the temple were two hours she wouldn't be bashed. What she heard in our temple changed her life. She listened to the monks to describe positive forgiveness.
She decided to try it out on her husband. She told me that every time he hit her, she forgave him and let it go. How could she do that, only she knows.
Then every time he did, or said, anything kind, no matter how trifling, she would hug him or cover him with kisses or use any other gesture to let him know how much that kindness meant to her.
She took nothing for granted. She sighed and told me that it took her seven long years. At this point her eyes became watery, and so did mine. "Seven long years," she told me, "and now you wouldn't recognize the man.
He's changed completely. We have such a precious, loving relationship now, and two wonderful children." Her face radiated the glow of a saint. I felt like getting on my knees to bow to her. "See that bench?" she said, stopping me, "
He made that wooden meditation bench for me this week as a surprise. If it had been seven years ago, he would only have used it to hit me with!"
The lump in my throat cleared as I laughed with her. I admire that woman. She earned her own happiness, which was considerable, I would say, from the brightness of her features. And she changed a monster into a caring man.
She helped another person, magnificently.

That was an EXTREME example of positive forgiveness, recommended only for those heading for sainthood, by NO MEANS do I recommend this approach to any other victims of domestic violence.
Nevertheless, it shows what can be achieved when forgiveness is joined with encouraging the good.