Chekov my life - Inspirational Tale of the Week
Chekov my life - Inspirational Tale of the Week
Chekov my life - Inspirational Tale of the Week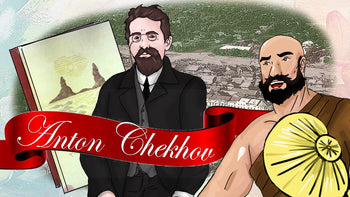 Anton Chekhov an incredible story of love, resilience, and freedom. Anton Chekov long before he became a famous writer, was born in the city of Taganrog.
Anton's father was a lazy drunk and he owned a failing grocery store. Anton soon realised that this hypocrisy was not only present in his family but all over the town of Taganrog.
Anton laughed at this hypocrisy and he was really good at impersonating the phone people of Taganrog. The harshness of his circumstances made Anton cruel, bitter and resentful.
Anton was the only one who stayed in Taganrog to finish his studies and get his diploma. The new owner of the house gave Anton a small corner where he could stay.
Several months after he was left alone Anton was walking through the streets of Taganrog. The Chekhovs had been serfs for generations and Anton's grandfather had bought off their freedom.
Anton's father was made to work a job he had no inclination towards even though he wanted to become an artist. Anton's father was reduced to the failing grocery store, his wife and six kids.
Anton could finally relieve himself of this negative load, this burden that he had been carrying for so many years. Work and love was his new M.O.
He would share his new inspiration and aspiration with the world through his writings and his plays. In 1879 Anton moved to Moscow to join his family and attend medical school.
Anton made an extra effort to make sure his other older brother Alexander would not follow suit. It took a while for Anton to get Alexander the settle but after some time his older brother finally became stable and reliable.
At one point during this period, Anton started spitting blood. As his writing and plays became increasingly popular, his fame was attracting the jealousy and pettiness of the literary world.
Anton witnessing all this gloom and doom begin to forget about the shallowness and pettiness of the literary Moscow world...