10 commandments of gaining mass
10 commandments of gaining mass
10 commandments of gaining mass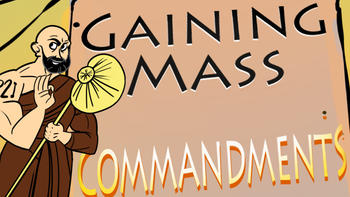 -Thou shall not take the easy route
Steroids might make you bigger and leaner but they might also make your testicules shrink and turn your chest to boobs
-Thou shall be realistic about your goals
You will probably never look like Lebron James or Thor but you will look your best self
-Thou shall not be impatient
You won't get ripped after 3 months. But you might after a 12 to 18 months
-Thou shall eat enough
If you want to get big you must eat big
-Thou should not get fat
Eating big is not an excuse to eat whatever you want. Eat just enough to get bigger.
-Thou shall use the right training

Don't sweat it. Lift heavy and heavier a little bit over time. Find a good program and stick to it.
-Thou shall use proper technique

Learn the proper form and women will be warm from your form
-Thou shall sleep enough

Get your sleep on or forget about gains -Thou shall not covet another man's body
Be happy and visualise your best self. Do not expect to get someone's else body
-Thou shall keep a log

Write down everything you eat and everything you have lifted.