Dos and don'ts in a relationship
Dos and don'ts in a relationship
Dos and don'ts in a relationship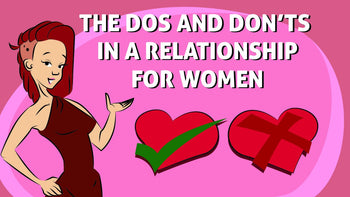 As a woman what are the things you should do and things you might not want to do in a relationship.
Dos and don'ts

-Do not belittle him in public or in private even if you are joking.
 humour is important but you need to set some boundaries

You can't make him appear inferior.

Banter is cool but if you push it and him too much.
you will become more of an annoying "bro" than an attractive prospect.
 -Support your man in every way you can. Make him feel that he is important for you and your well being. If he has a dream, a vision encourage him. When he is in doubt. Crush those doubts.

Let him know that you are there for him. Loyalty and devotion are SUPER attractive attributes.
-Do not nag your man.
If you treat him like a little kid he will feel like a little boy and eventually start behaving like one that fears a mother rather than enjoying his lover
Avoid condescending behaviours and demeanours such as looking down on him literally and figuratively. Treat him as an equal partner. Ask for his help and opinion.



Use your charms and wits efficiently when in a argument or other time He will melt and listen to whatever you have to said.
-Do not (constantly ) refuse sex.
A key important aspect of a relationship is the sexual part each partner wants to be with just that person instead of playing the field looking on tinder and chasing elsewhere
Make him feel you want him. Surprise him with new lingerie and "special dates". Keep him on his toes and keep the fire burning.
-Do not start neglecting yourself and your appearance.
It's easy getting in a relationship just to let yourself go a little... Self-care needs to go continue throughout one's relationship such as working out, going to get facials, making yourself feel well will in turn help the relationship
It is important for a relationship to work for men and women to keep their essence in masculinity and femininity.
A little effort goes a long way. Take care of yourself, your man. Your relationship will blossomed fully