Tyson fury - Deontay Wilder Overcoming depression, drugs and suicide. Why you don't always get what you think you deserve ?
Tyson fury - Deontay Wilder Overcoming depression, drugs and suicide. Why you don't always get what you think you deserve ?
Tyson fury - Deontay Wilder Overcoming depression, drugs and suicide. Why you don't always get what you think you deserve ?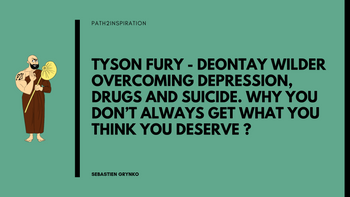 Tyson Fury versus Deontay Wilder was a much anticipated fight.
One of the most important fights of the last ten years in the boxing heavyweight division.
Both fighters are undefeated and are champions in their own rights. The fight took place a few days ago and ended in a draw.
The decision is controversial as a lot of people thought that Tyson Fury was winning and got robbed of his long awaited come back. Some others also said that Tyson Fury did not beat the count when he was knocked down in the 12th round.
The fight in itself was spectacular, moving and touching to say the least. My heart was pounding so fast during the last round. Tyson Fury gave a masterful performance. The world was witnessing a virtuoso at his best.
Deontay Wilder was very good as well. He delivered two knockdowns. For the most part he got outboxed by his opponent and this fight was probably not his best performance.
He did however stayed on his feet and showed resilience through the whole fight. We have to give him credit for that, even though most people think he lost that fight he still remains a great champion.
The result came in and both hands were raised and Tyson Fury was seemingly robbed of his victory and happy ending but was he really ?
Let's us talk about Fury for a moment here. Tyson Fury a year before that fight was in a completely different predicament.
He weighted over 400lbs and was living a far from healthy lifestyle. Doing drugs, partying and had fallen into depression which damn near led him to suicide.
He mentioned on the Joe Rogan podcast that he came very close to ending his life while driving one of his fast cars.
He had an epiphany and asked God to help him overcome the demons and adversity he was facing.
At that time he had everything a man could wish for a family, money and a legacy without even reaching his 30th year on this planet.
His career was at an all time high. He was the first one to defeat Vladimir Klitchko after a long reign spanning over 10 years.
Depression hit him hard. He indulged in alcohol, cocaine and fast foods. Bringing him closer and closer to the edge.
Till the day when he chose the path of redemption and decided to fight Deontay Wilder. Get his life back on track and defeat the champion who had not been defeated for such a long time.
Slowly but surely his strength and wisdom grew and he got back to a life where people were looking forward to the super fight.
About a year later we saw a completely different Tyson Fury. His Cinderella story is better than a Cinderella story. His Rocky story is more poignant than a Rocky movie.
He came our better than he ever was. Armed not only with strength but with a much more elusive and powerful weapon. Inspiration.
Through his descent into the abyss and his climbing out of the hole he dug for himself. He wanted to show the world and those who are suffering from the same affliction as him that depression can happen to anybody.
But it also can be overcome by anybody. All of us have this intrinsic hero who is waiting to shine.
And that is what Tyson Fury did. He shone, he got knockdown twice and got up. He rose like a phenix does from its ashes. He got knocked down once by depression and twice by Deontay Wilder.
He was still not enough the keep the Gypsy King on the ground. He showed the world something. He did not give in. He showed incredible heart.
The decision said that he was robbed and he did not win. In my opinion he won more than what meets the eye. He won a more elusive victory. He overcame suicide, depression, drugs and knockdowns (of any sorts).
He won a victory not only for himself and his entourage but for the world at large. Why ? Because that day we were all winners because we were able to witness a champion in and out of the ring. Inspiration won. And I would like to pay my respects and thank Tyson Fury for his great contribution and the amazing inspiration he shared with us.
Long live the Gypsy King