Meditation is not about control
Meditation is not about control
Meditation is not about control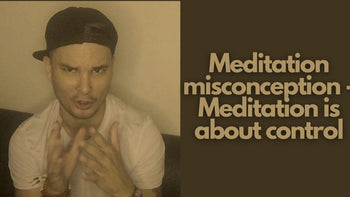 The number one thing I hear about meditation is I tried meditation but I failed. You would be surprised how many times I heard those words.
This is really revealing of the world we live in. Every time we start something, it always has to be measured in success and failure.
I understand, we are human and sometimes we can't really see past the duality but meditation is not about that.
The mindset of failure and success needs to be abandoned in order to meditate. Every time you think that you need to achieve something in meditation you will "fail".
You will not fail because you have done something wrong. No — You will fail to understand the essence of meditation.
Meditation is the cultivation of the mind. You can't do it wrong. You can't fail because there is no success to be gained from the practice of meditation.
It is very important for you to understand. Whenever you are sitting down and trying to watch the breath and bring awareness to the present moment and the movements of your mind. You are doing it right. You are winning, so to speak.
If that is what you want to hear then here you go. Every time you are sitting and meditating you are winning, you are succeeding, you are achieving peace.
If that helps you then by all means have this mindset. You can't lose when you meditate. You can't fail when you meditate.
Every time you sit to meditate you are doing an immense service to yourself and the word.
The Buddha used to say that a moment of awareness is far greater than 100 years of idleness.
Don't underestimate the power of cultivating the mind. Regardless of what is happening in your mind during the time you meditate. As long as you are keeping your awareness and accepting the present moment, everything will be all right and everything will get better.
You can't fail at meditation. You can only win. Liberate yourself from the loser mindset. Be at a peace. Be present. Be kind. Be aware. The rest will unfold.
Just do it.