The true meaning of letting go
The true meaning of letting go
The true meaning of letting go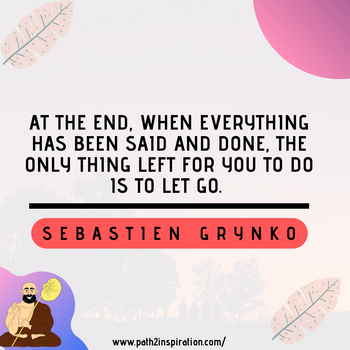 We are such control freaks with our lives, we hardly realise the power of letting go.. It seems like such a foreign concept.
I live in Thailand these days and every year I need to leave the territory to renew my visa.
This year I was applying for a third year in Thailand. A few weeks before I left, the school in charge of my visa told me that I should go to Malaysia instead of Laos to renew my visa.
However I had already booked my tickets to Laos. They told me that a girl from our school had just being rejected a few days ago. 
Needless to say I was worried. This time I might actually not be able to stay in Thailand and my plan was to stay here for two more years but you know what they say.
We make plans and life laughs at us. For two weeks I had to battle with my worries and my doubts. Trying to let go of them and find alternatives, just in case.
The first time they told me that I might have an issue with my visa I was worried then slowly but surely, I was getting calmer and more peaceful about it till the day I left for Ventiane, the capital city of Laos.
The immigration process takes two days. You arrive the first day, apply for the visa and leave your paperwork. The next day you come and collect.
My first day was not going well, or so I thought. When my number came up. I gave my paperwork and my passport.
The man in charge was looking through my passport and checking every page. As I looked at him browsing through the numerous visa stamps and my passport.
I thought to myself, this is not going to work in my favour. The o
ffi
cer in charge was not even looking at my paperwork and he did not smile or give any sign that things were going right for me.
He then looked at me and said something in Thai, which I did not understand. My Thai is pretty decent but I was outside, he was inside with the air-con and talking through a window without any microphone.
I told him in Thai that I did not understand what he was saying, which is normally a big mistake because I have an ed visa to learn Thai and that's how they test you. 
He then told me in english that for the moment my visa is not approved and tomorrow only, I will know if I can get it or not.
At this point honestly I thought I would not get it. I thought that I would get a one month tourist visa then I would have to go back to Thailand, stay for my last 30 days and leave the country.
I left the embassy and went back to the hotel. I took a nap and when I woke up I decided to let go because there was nothing else I could do.
At that moment I had truly let go and I had an amazing day. I did not necessarily do much aside from working out and walking around the hot streets of Vientiane but I was feeling free.
Free from the doubts, the worries, the fears and everything that was weighing on me. I told myself that whatever happens, it is what it is, and I can deal with it.
The next day I went back to the embassy to collect. My number came up. I paid the visa fee and collected my passport.
At that moment I still did not know if they gave me a tourist visa and rejected my ed long term visa or actually granted me the ed visa.
So I took my passport and opened it to the page of my visa. Lo and behold, my visa was approved.
You know what, I am not going to lie. I was happy and grateful but I was already at peace before getting the visa.
Of course not all situations turn up to be that good but when you have truly done everything, when you set an intention and done your part then just let go and know that whatever happens you can surely deal with it.
Remember that life happens for you not to you, so even when something seemingly bad happen, it  can actually be a stepping stone to something better.