Equanimity is one of the most important skill you will improve through meditation
Equanimity is one of the most important skill you will improve through meditation
Equanimity is one of the most important skill you will improve through meditation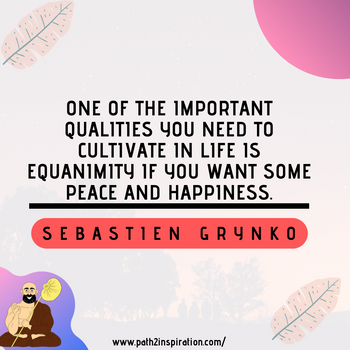 Growing up, I always thought this word was fabricated or coined by someone in recent years.
It sounded like a fake version of equality but when I got to know its meaning, and more specifically the Buddhist meaning, it changed my perspective on life.
Equanimity is very important in life and in meditation. They say the two worst things that can happen to you is not getting what you want and getting what you want.
Life is riddled with all kinds of obstacles, hurdles, good times and bad times. Oftentimes we do realise that the bad times are not as bad as we thought they would be and the good times are not necessarily as good as what we thought they would/could be.
Equanimity gives you a balance in life. You don't get too carried away during seemingly good times and you don't get too desperate when the times are dark.
Some people may think that it makes life kind of boring. Fair enough, that's an easy way of defining equanimity.
More often than not, people, myself included, view equanimity as just an apathetic perspective on life but it is so much more than that.
Equanimity is a way to view life with kindness, acceptance and understanding.
Equanimity will help you understand that the dark times are here only for a while and not here to last.
Equanimity will gives us hope and patience during trying moments. It will also give us the strength and the wisdom to understand that there is a valuable lesson to learn here.
Equanimity will also make you more humble during the good times. We understand that life is transient and ephemeral.
We understand that the good times will pass as well. We understand that in order to make the good times stay longer, some e
ff
ort need to be put forth.
Equanimity help us stay kind to the moment and ourselves, in good or bad times. It gives us the perspective to understand what to do and what not to do.
It gives us the hope and the resilience to keep moving forward, and last but definitely not least, it gives us peace.