Stories of forgiveness and why it is so important
Stories of forgiveness and why it is so important
Stories of forgiveness and why it is so important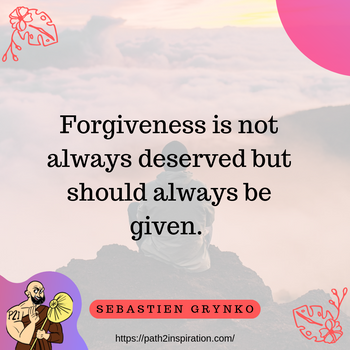 My Uncle has 4 kids from two different marriages. The first two daughters he had, are now in their 30s
About 25 years ago, he left his first family and started a new one and had two other kids. He did not neglect his two first born kids but he was living in another country, which made it hard for him to be the best father to his two elder daughters.
My uncle made a lot mistakes and failed many times, with his relationships, with his two elder daughters and his professional life.
He did not do anything bad to his daughters. He did not abuse them or mistreated them. He was just unlucky and made a few bad calls. He still loves his elder daughters but the distance grew and the gap has widened throughout the years.
My uncle is getting old and his professional life is not the most stable. His daughters are both doing very well but they do not help their father and perhaps you might think that it is justified.
I am not judging. I am just sharing stories. Now listen to the other one I am about to share.
I was talking to my mother a few weeks ago and she told me a story. My aunt has a good friend who is an entrepreneur and doing very well for herself. Let's call this friend Kate
One day, out of nowhere, Kate received a call from her mother. This woman had abandoned her, her siblings and her father some 30 years ago.
She came back into Kate's life because she had nobody else and she was diagnosed with a terminal disease.
Can you imagine ? After over 30 years your mother, who has abandoned you and neglected you, comes back into your life for selfish reasons, no less.
She did not come back for forgiveness, she did not come back for redemption, she came back because she had no other alternative.
Kate could have rejected her mother's plea and nobody would have thought less of her but you know what she did ?
She left all her resentment, anger and frustration, accumulated through the years, aside. She welcomed her mother with open arms.
She took her in. Let her stay with her. She paid for the medical bills and even hired a stay at home nurse, to help. She took care of her until her mother's last breath.
She almost went broke. She barely had any money left for the funeral but the people in her neighbourhood and community were so touched by her story that they gathered their money together to help her pay the funeral bills.
When I heard this story, it touched my heart. As I am writing those words I can barely hold the tears back.
I am not saying that my cousins are being bad to my Uncle. This is not a judgment call. You might read the first story and not think much of it or you might be able to relate, and perhaps you might feel anger at my uncle or maybe at his daughters or maybe both..
But how do you feel when you read the second story ? Don't you feel this warm feeling inside of you ? That can only be mustered when you are witnessing something truly beautiful, something that words alone can't describe..
I leave you with these stories and hope that when you have a choice between indifference and caring, the latter options will always been the one you choose.