Renunciation to reach enlightenment
Renunciation to reach enlightenment
Renunciation to reach enlightenment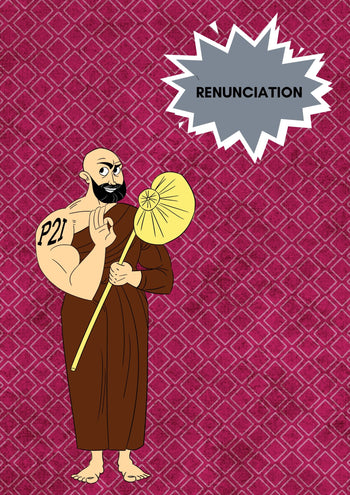 What exactly do we renounce in order to reach enlightenment ?
In the times of the Buddha, people and all up to this day, laymen and laywomen would renounce the worldly mundane life to pursue the path of monk hood.
Does it mean you need to shave your head, wear a brown robe and become a monk ? Yes and no.. During the bygone age of the Buddha, men and women of every walks of life would get enlightened.
Does it help to be a monk ? Hell yeah. The conditions are much more conducive to reach the highest stages of spirituality.
Bear in mind that in the scriptures, it is said that one has to be very fortunate and have a very good "record" of good karma to be alive during the time of the Buddha.
Therefore those laypeople who got enlightened at that time, already had their perfections and karma develop through countless lives, in order to reach their peak, during the life they lived close to the Buddha.
That being said, should we be discouraged or should we all become monks and nuns. Well if you have a calling for it, by all means, go for it.
Most of us don't have the calling. It does not mean we can't renounce things and behaviours that will lead to a better life.
Renunciation is the renouncing of the things that bring us more suffering and prevent us from reaching those higher levels of peace, joy and wisdom.
What could you renounce right now in order to make your life better ? You don't have to go balls to the wall and give up everything.
Hell no. It's a process and we like to stay in the present moment. Don't we ? We can all start somewhere. We can all renounce a little more everyday. What do I mean by that ?
We can renounce the negative thoughts. We can renounce the hatred we have inside. We can renounce saying the words that might hurt others and ourselves. We can renounce the actions and behaviours that might lead to our demise. 
We can renounce indulging too much in the pleasures of the senses, drugs and accumulation of material goods. We can start to let go of the people who do not wish us well.
We can renounce social media platforms, we can renounce selfishness, stinginess, egotism, fear, doubts, sloth, gluttony, etc, etc...
The more we start renouncing the unwholesome things in life, the more we have space for good, for the joy, for the peace, for the care and for the wisdom.
Start surveying your life and see where you can renounce things. Do not go radical. Remember we have all the time we need. 
Start renouncing bit by bit and start to see the space of your heart and mind grow and fill it with all the sweet right ingredients to make a beautiful life for yourself and others.