Mothers are awesome (most of the time)
Mothers are awesome (most of the time)
Mothers are awesome (most of the time)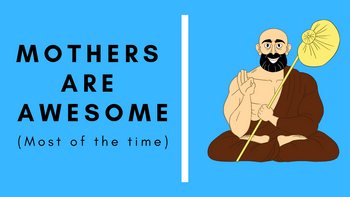 Mothers are awesome
Some people did not get a chance to have a mother who cares for them.   For them, I offer my compassion and understanding in the hope that you found a way to make it a strength.
But for those of us who have not suffered the absence of a mother and have or have had the privilege of being embraced by the immense and unconditional love of a good mother,  this is one more reason amongst a million others to be grateful. 
Nobody will ever love you like a good mother and I say this for guys who expect their spouses, their girlfriends to give them the same sort of love.   Man up and grow up.  It won't happen.  Not even close.  
Hopefully,  you can find someone who will love your kid(s) as much as your mother loved you.
We need to put some emphasis on respect and filiality back in our lives.  Heaven lies at the feet of your mother not Hell.
Too often we take our relationship with our mothers for granted.  So much has been given and as human being, so easy to forget and forsake.
But 
When the water runs dry and the tap is closed and our mothers are no longer with us, we are reminded that this bond is unique and it has served us and nurtured our growth.
Mothers are not perfect in their characters but they are perfect in their love. They have their flaws but their beauty shines brighter through their unconditional love.
This love can become pervasive, smothering and at times overwhelming but who am I to judge?  I will never know what it is like to carry a fetus in one's belly for 9 months and give birth to a human being.
Mothers are pillars of our society and we should given them their due respect for their role is crucial and essential for the well being of civilisation as a whole.
Some sons and daughters talk back, insult, disrespect their mother in ways that should almost be illegal. 
One should be careful with their words and deeds.  One's actions towards one's mother are not inconsequential.
Karma is a bitch and for those who treat their mothers with anything less than pure devotion, the backlash could be real painful.
In most religions, one's ill-will directed at one's mother is one of the worst things you can do. 
In Buddhism, they say that you could carry your parents for a whole lifetime on your shoulders, you could give them the throne of the earth and it would still not be enough to repay their love.
I am not trying to promote religion and saying that they are right but they make sense.
I heard someone say in a video that birthdays should be an occasion to give presents to our mothers, not gifts for us, on our birthdays.
 It is the celebration of the day our mother gave birth to us.  Why should we get anything when she did the heavy lifting and we just popped out!   We should give her the credit and the present.
Some of you guys have mothers who are weak, absent and not too good as a parent.
Don't forget that we are all human and we fucked up.  Why not give it another chance and try to help and guide your mother to a better version of herself.  Sometimes that's the best gift, one can share.
But
For all of us who have or have had an angel as a mother, we ought to see her more, show her appreciation and know that nobody else will give us the love, the sacrifice and the gift of unconditional caring.
So do yourself a favor, listen to the song Dear Mama by Tupac and remind yourself and your mother as often as you can of the power of mothers.
Guys if you like what you read. Scroll down and leave your email for better and more exclusive content. There is more to come. I will keep on adding more and more free content. Get your free ebooks and if it is not enough. You can hire me and let me help you to find the inspiration you lack in your life. Cheers