Contentment, appreciation and gratitude. 3 different icings for the same delicious cake.
Contentment, appreciation and gratitude. 3 different icings for the same delicious cake.
Contentment, appreciation and gratitude. 3 different icings for the same delicious cake.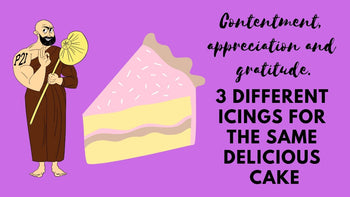 Do we appreciate life enough ?

Gratitude, contentment, appreciation, out of these 3 words, gratitude is the most commonly used and the trendiest. I think it is the Hollywood version of the other two. 
In this post, I will try to explore to see if there is actually a difference in semantics. Or are those 3 words similar ?


Gratitude, as I just mentioned is trendy.   Everybody talks about it.  First, let's define what gratitude means to me.
Gratitude is to be thankful for something.  No more, no less ... And in itself It does not need to be anything else.
Appreciation is more contemplative because we appreciate things for a reason.  When we see it to be beneficial to our life, we dwell on it and see it as an appreciation of the goodness in our life.


Contentment is the most humbling of all 3 and minimalist as well.  We don't necessarily need to be thankful.  We don't need to ponder.  We are at peace, we know what we have and when we are content, we know truly know how to have a still mind.

If you have not noticed yet,  I am being playful and cheeky with those 3 terms.  They can be synonymous, crossover or built upon one another. These 3 terms are 3 different icings of the same chocolate cake. 
Although the bulk of the cake is chocolate, each icing will give you a twist in flavour when you taste it. I would say that they are same and yet different and that one is enough, but all three makes for a perfect recipe of life.


Let's start again with the last term.  Contentment as opposed to apathy is not settling for an unsavoury situation but it is an appreciation of one that we take for granted.  Once we can appreciate something, we can truly be thankful for it.

Life is about what we do and what we have.  In this game of life, contentment, gratitude and appreciation will put us ahead of the curve when it comes to peace, health, success and fulfilment.


I want to add two other words to those three terms and they are the two strawberries on top of the cake.  The first one is RELAX.  Something we are all familiar with, but a lot of times also take for granted.


Why is it so hard for us to appreciate, be content and thankful for anything at all?
Well, obviously we are living in a world where advertising makes sure that we always yearn, crave and desire more. How else could a consumeristic society work?  Right ?
That being said, it is too easy to point fingers outwardly and blame things we can't control, for our demise.
Though it is obviously easier to feel content, grateful and thankful when resources are sufficient and you live within a tribe or village with 40 other members who are your family and extended family.

A tribe where everybody lives with the same resources and enjoy the same "luxuries" ,  where there is little excess and no abundance of material "goods". Yes it is easier and it is kind of f**** up but yet incredibly profound.  It makes total sense when you really think about it. 

The more we have, the harder it is to be at peace and at ease with it.   Yet the less we have, the easier it seems to be content. Maybe we are accumulating the wrong things?  

Love, compassion and caring cannot be measured, compared or quantified because they are incommensurables therefore worth much more than material "bads". I digress. Let me go back to relax. One who always want more can never appreciate, be content and be grateful for what one has.
Which bring me to my other word...STOP.  We need to stop or at least slow down.  Stop wanting more for a while and it doesn't necessarily mean anything material. Our minds are constantly chasing for better outcomes and situations.  We never want to be where we are.


The only moments we want and really appreciate  are the highlights of our lives.
I have already talked about the in-between moments and highlights of our lives in other articles.

Stop! Stop!  We all need to stop in our race for more because when we stop even for a few moments, we can relax and say to ourselves enough is enough because it REALLY is.


Enough is really enough.  That's the true essence of being contented.  Stop, relax, be content, appreciate and offer thanks for all of it.

Stop and say to yourself that enough is enough not with anger but with relief and kindness, then take a deep breath, or two, or three or just meditate, for crying out loud!
After feeling more relaxed, be content with your thoughts, your mind, your situation, your life. 
Appreciate the good and the not-so-good for even the seemingly dire can bring about much wisdom, understanding and compassion.


Finally be thankful.  Enjoy this feeling of enoughness.  Know and feel that less is truly much more sometimes.   Enjoy this chocolate cake with 3 different icings and two strawberries.
Guys if you like what you read. Scroll down and leave your email for better and more exclusive content. There is more to come. I will keep on adding more and more free content. Get your free ebooks and if it is not enough. You can hire me and let me help you to find the inspiration you lack in your life. Cheers