Is fear really necessary ?
Is fear really necessary ?
Is fear really necessary ?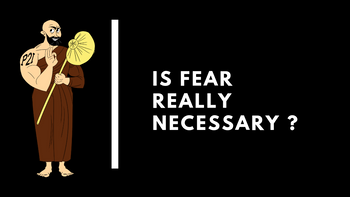 Fear is looking at the future and seeing the worst case scenario.  Fear is incredibly counterproductive because you tend to make what you fear happen in your life. I'll give you an example.  Say you have a boyfriend or a girlfriend but you are scared that they might leave you.  What happens next ?  
Your behaviour will change.  You'll become needy.  You'll smother.  You'll cling.  Next thing you know, she or he does not want to be with you anymore. Your fear has become a self fulfilling prophecy.


Or, you have a business and you are constantly fearing failure which is not a good way to approach a business endeavour. You never know what will happen especially and specifically in a business but seeing the worst case scenario won't push you to make any good decision, let alone staying positive when you need to.


So why bother with fear ?


Some of you might say that a little of fear will keep us on our toes and not let us be careless. Well perhaps there is some truth to it, but not being scared does not mean you are careless.


What you could do is envision the worst case scenario of a situation and it is possible that the outcome is not desirable but it's not the end of the world. So your fear is not rationalised. 
The stoics call this negative visualisation.  You could do this from time to time but do not visualise with fear.  Just think of what's the worst thing that could happen.

Then deal with it accordingly.  To begin with, see what you can do to avoid it and even if does happen, see how bad it actually is and what you can do about it.

There is always a solution and fear cripples us.  One other thing you can do is to look at the future with hope.   A monk whose lectures I like to listen, calls it being "Hopey"


Since fear is seeing the future with negative outcomes, being "Hopey" is seeing our future with positive outcomes. What it will do for you is reduce the fear and keep you in a positive state of mind to achieve the things you want and therefore reduce the chances of a negative outcome.
Isn't that amazing ?


So no fear is not useful.  Do not be scared and be HOPEY
Guys if you like what you read. Scroll down and leave your email for better and more exclusive content. There is more to come. I will keep on adding more and more free content. Get your free ebooks and if it is not enough. You can hire me and let me help you to find the inspiration you lack in your life. Cheers