Busyness or the art of doing nothing
Busyness or the art of doing nothing
Busyness or the art of doing nothing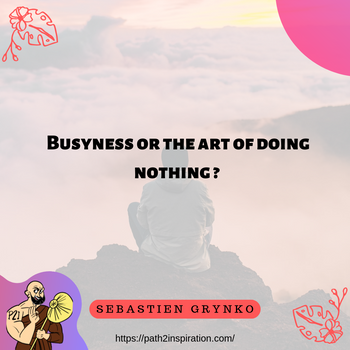 Do you ever guilty because you are not doing anything or maybe you think you are not doing enough ?
I know I felt this way, at times. If we are not pushing, if we are not moving forward, if we are not busy.. Are we automatically made to be lazy ? Good-for-nothing ? Unworthy of love ?
It might feel like this sometime. Being busy is not a badge of honour, especially when you are filling your time with things that are not even worth your time.
Are you too busy for your friends ? Your family ? Your husband? Your wife ? When you get a text from a long time friend inviting you for dinner, do you feel proud for telling him or her that you are too busy to hangout ?
There is a time for action and there is a time for inaction. How else will you muscle grow if you don't give them enough time ?
How else will your business grow if you don't give yourself the time and leisure to get new, brighter ideas ? How else will you be healthy if you don't get enough of the sleep you need every night ?
We are too busy for others and even ourselves, so forget the busyness of business.
Do what you have to do but allow yourself the time to contemplate the art of doing nothing.