Be who you are & all that you can be
Be who you are & all that you can be
Be who you are & all that you can be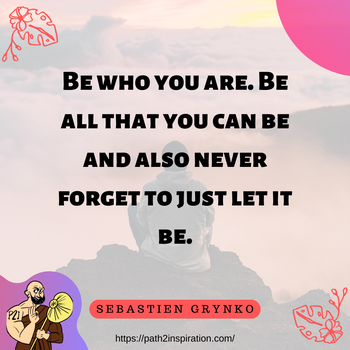 Ralph Waldo Emerson said that to be yourself in a world that is constantly trying to make you something or someone else, is an accomplishment in and of itself.
Authenticity does not come easy. To conform is much easier and less risky. When you are just another brick in the wall, it is easy not to o
ff
end or be polarising.
When you are yourself however, truly yourself, you stand out, and it is not necessarily a good or a bad thing.
Some people like to stand out just to be rebellious and "against" the "system" but sometimes trying too hard to be "against" makes you become a part of it.
Being authentic is not necessarily for or against. Well, actually, it is not necessarily true. It's for you. By being yourself, you are accepting yourself, and actually caring for who you are and what you truly want to express.
It can be scary. When you put yourself out there, the feedback you will get, is going to be about the real you. Not the you, you have fabricated to conform.
Is it worth it ? Maybe. Maybe not. Who can answer this except yourself. For what it's worth, repressing yourself and hiding from who you are, can never end in peace.