Take the time to appreciate the people in your life
Take the time to appreciate the people in your life
Take the time to appreciate the people in your life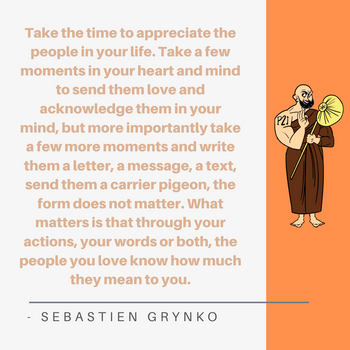 Take the time to appreciate the people in your life. Take a few moments in your heart and mind to send them love and acknowledge them in your mind, but more importantly take a few more moments and write them a letter, a message, a text, send them a carrier pigeon, the form does not matter. What matters is that through your actions, your words or both, the people you love know how much they mean to you.
You might think you have all the time in the world but it is not necessarily true. Shit happens and sometimes you just run of time and ideal circumstances. It is important to show the people you love how much they mean to you. You might think that they know you love them but, again, it is not necessarily true.
I have written a heartfelt letter for my father's birthday, a few weeks ago. He was greatly moved by it and I was greatly moved by his answer.
I learned things I did not know and he learned things he did not know. Those things were good things, better than good things, words are insu
ffi
cient to express how good they were.
They gave him and I an overwhelming feeling of love and warmth. So that's the reason why I am inviting you to appreciate the people you love by deeds, thoughts and speech.
Actions can be great but for me, the gift of words is something even greater at times. Words can be kept forever. Do not appreciate, thank someone or show love to someone to get anything in return.
When I wrote the letter, I was not even expecting an answer but I got one and it exceeded so much more than I could have expected. Some people are less responsive and might not know how to deal with the emotion.
It's ok. Let me them cope with your words, however they want to. Don't worry about it. You have done a great thing and no matter what they say or don't say. Your words will mean something to them and warm their hearts.