Poor me, lucky them
Poor me, lucky them
Poor me, lucky them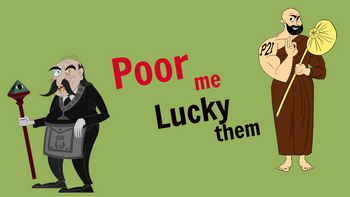 Remember when you were a kid and your mother didn't want to spoil you with another toy?  She would tell you how many you had already and it was enough for the moment.

Then you expressed your frustration and she would admonished you and say how lucky you were because some kids don't even have the luxury of playing with toys.

She would tell you the same thing when you would not finish your food.  "You know my son, some people don't even have food to eat.''

Did it really work?  Well not really... Especially as a kid, you don't have the wisdom to deeply understand those comparisons.

You still want the toy and you still don't want to eat anymore.  Therefore, when your mother tells you : "Lucky you, poor them" it is kind of irrelevant.

What about this one?  When I was a teenager, I was kind of awkward and was envious of those who were popular with girls.   Needless to say, I was not.

Then I grew up, I had my fair share of relationships and I realised it was not as "Walt disney" as I expected and it did come with a fair share of disappointments.
I would also be envious of the success of others and want the trappings and not the girls anymore.


We all live in a bubble and it is good to have it burst every now and then.  I have lived in different countries and I expected that everybody outside of the western world was living in slums.

I am exaggerating to make a point but to a certain extent that is what I thought.  I then realised that a lot of them were leading much healthier, wholesome and prosperous lives.

The grass is not always greener.  We should stop making assumptions about people.  So we don't place false values or false labels on them.

We can think we have it better or we can think we have it worst but at the end of the day, we all have different sufferings.

Those who seem to have less, might have more joy and actually less suffering.  Those who have more might actually suffer more in order to stay where they are and have what they have.

In life, we have suffering wherever we are.  Remember one thing, whatever you want in life, you are just exchanging one form of suffering for another.

If you're a single, you'll have single person suffering.  If you're married, you'll have married person suffering.  It is the same thing whether you're poor or rich, handsome or ugly and the list goes on...

I am not judging one against the other.  Everyone in each situation finds a way (if they are wise) to be happy about their life.

The grass is not always greener.  Poor me, lucky them ?  Or lucky me, poor them?  Who cares ?  Enjoy your life for what it is and remember things may not always seem as they are.  Don't assume things about people.  And do not believe that there will be a life where you could have total freedom from suffering. Scroll down for more.