How to use your beautiful mind
How to use your beautiful mind
How to use your beautiful mind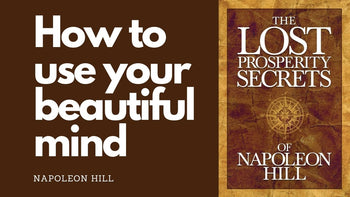 "Learn How to Use That Wonderful Mind of Yours
The human mind is a composite of many qualities and tendencies. It consists of likes and dislikes, optimism and pessimism, hatred and love, constructiveness and destructiveness, kindness and cruelty. The mind is made up of all these qualities and more. It is a blending of them all, some minds showing one of these qualities dominating and other minds showing others dominating.
The dominating qualities are largely determined by one's environment, training, associates, and particularly by one's own thoughts! Any thought held constantly in the mind, or any thought dwelt upon through concentration and brought into the conscious mind, often attracts to it those qualities of the human mind that it most resembles."
"A thought is like a seed planted in the ground, in that it brings back a crop after its kind, multiplies, and grows; therefore, it is dangerous to allow the mind to hold any thought that is destructive. Such thoughts must sooner or later seek release through physical action.
Through the principle of auto-suggestion—that is, thoughts held in the mind and concentrated upon—any thought will soon begin to crystallize into action. We will discuss this principle at length later."
"If the principle of auto-suggestion were generally understood and taught in the public schools, it would change the whole moral and economic standards of the world inside of twenty years. Through this principle, the human mind can rid itself of its destructive tendencies by constantly dwelling upon its constructive tendencies such as positive thinking or a positive attitude. The qualities of the human mind need the sunlight of nourishment and use to keep them alive. Throughout the universe, there is a law of nourishment and use that applies to everything that lives and grows. This law has decreed that every living thing that is neither nourished nor used must die, and this applies to the qualities of the human mind we have mentioned.
The only way to develop any quality of the mind is to concentrate upon it, think about it, and use it. Evil tendencies of the mind can be blotted out by starving them to death through disuse!
What would it be worth to the young, plastic mind of the child to understand this principle and commence to make use of it early in life, beginning with kindergarten?
The principle of auto-suggestion is one of the fundamental major laws of applied psychology. Through a proper understanding of this principle the whole tendency of the human mind can be directed toward constructive effort in a short period of time."