How to raise your energy level - Napoleon Hill
How to raise your energy level - Napoleon Hill
How to raise your energy level - Napoleon Hill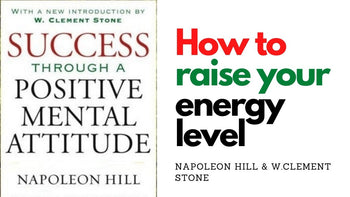 How to Raise Your Energy Level
How is your energy level today? Did you wake up eager to face the tasks ahead? Did you push your chair back from the breakfast table with the feeling that you were racin' to go? And did you plunge into your work with enthusiasm?
You didn't? Perhaps for some time now you just haven't had the vim and vigor you think you should have. Perhaps you feel tired before the day begins, and drag through your work without joy.
If so, let's do something about it!
Vernon Wolfe, track coach, is an expert who can show us what to do. He is one of the outstanding coaches in the country. Under his tutelage, several high school students have broken national prep school records.
How does he train these stars? Wolfe has a double prescription. He teaches them to condition both their
minds
and their
bodies
simultaneously.
"If you
believe
you can do it," says Vernon Wolfe, "most of the time you
can.
It's mind over matter."
You have two types of energy. One is physical, the other is mental and spiritual. The latter is by far the more important, for from your subconscious mind you can draw vast power and strength in time of need.
Think, for example, of the great feats of strength and endurance you've read about people performing while under the stress of intense emotion. There is an automobile accident and a husband is pinned under the overturned car. In her moment of fear and determination, his tiny and frail wife manages to raise the car enough to free him!
Or the insane person, his mind dominated by his subconscious running wild, can break, lift, bend, and smash with a force he never could hope for during periods of normality.
In a series of articles for Sports Illustrated, Dr. Roger Bannister told how he first broke the four-minute mile on May 6, 1954, by training both his mind and his muscles to accomplish this long- sought dream of the athletic world.
For months, he conditioned his subconscious into the belief that the record, which some people claimed was unattainable, could be achieved. Others thought of the four-minute mark as a barrier. Bannister thought of it as a gateway which, if he once passed through, would I open the way to many new records for himself and other milers.
And of course he was right. Roger Bannister led the way. In a period of little more than four years after he first set a four- minute mile, the feat was performed 46 times by himself and other runners! And in one race, at Dublin, Ireland, on August 6, 1958, five runners ran the mile in less than four minutes!
The man who taught Roger Bannister the secret was Dr. Thomas Kirk Cureton, director of the physical fitness laboratory at the University of Illinois. Dr. Cureton has developed revolutionary ideas concerning the body's energy level. They apply, he says, to both athletes and non-athletes. They can make a runner run faster and the average man live longer.
"There is no reason why," Dr. Cureton says, "any man can't be as fit at 50 as he was at 20 — providing he knows how to train his body."

Dr. Cureton's system is based on two principles: (1) Train the whole body. (2) Push yourself to the limit of endurance, extending the limit with each workout.
"The art of record-breaking," he says, "is the ability to take more out of yourself than you've got. You punish yourself more and more and rest between spells."
Dr. Cureton became acquainted with Roger Bannister while running physical fitness tests on European athletic stars. He noticed that Bannister's body was wonderfully developed in some ways. For example, his heart was 25 percent larger than normal in relation to his body size.
But, in other ways, Bannister wasn't as well developed as the average man. Bannister took Cureton's advice to develop his
whole
body. He learned to condition his mind by taking up mountain climbing. This taught him how to overcome obstacles.
Equally important, he learned to break big goals down into little ones. Roger Bannister reasoned that a man ran a single quarter- mile faster than he ran the four quarters of a full mile. So he trained himself to think of the four quarters in the mile separately.
In his training, he would dash a quarter mile, then jog a lap around the track to rest Then he would dash another quarter mile. Each time, he aimed to run the quarter in 58 seconds or less. Fifty-eight times four equals 232 seconds, or three minutes and 52 seconds. He ran to the point of collapse. Then he would rest. Each time, the point of collapse was pushed back a little. When he finally ran his great race, it was in three minutes, 59.6 seconds!