Honesty in a relationship
Honesty in a relationship
Honesty in a relationship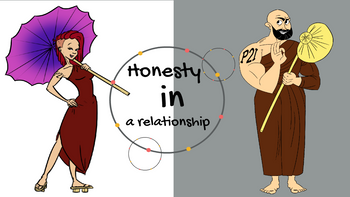 A few years back, I was at home waiting for my girlfriend to get back. She had to work that day. A few hours went by and I heard her opening the front door. I can't remember exactly how it happened but she started crying. Something was weighing heavy on her heart. 
She had to tell me something. At that time she was modelling so a lot of times she had to work with other models both male and female. I will stop right there to say that she did not cheat on me. 
What happened is that she found herself attracted to some male model who was trying to flirt with her. At this point of our relationship things were not going so well and I was not being the best boyfriend.
I was not making her feel desired and feminine. This was bound to happen and a big part of it was my fault. She did not blame me nor did I blame her. She was honest and till his day I always thought that it was her greatest quality.
We have not being together for more than 4 years now. That time was tough for me. My ego was not hurt but I felt guilty, seeing her tears. I understood that the hardest part was not confessing this to me.
The hardest part was, she actually let herself be wooed by some other guy, even though she was in a committed relationship. The pain was real but like most things in life it did not last. What lasted, however, was the respect I had for her. 
 She did not really do something bad. She could have easily concealed it and never spoke a word about it. She chose the wise way, the right way.  And that's what we all should do.
Jordan Peterson is constantly saying that one of the things, he believes in the most. Is telling our fundamental truth and let the world unfold around it. He says that our lies will ultimately flood us and eventually destroy us, should we let it go too far.
We should tell the truth. If it resonates well with us. And if we feel this alignment of our psyche, our integrity and strength, we know our truth to be right. If not we should not speak this truth anymore and/or reformulate it in a way where there is no cognitive dissonance.
There is a reason why most religions forbid their followers from lying. In the grand scheme of things, it can only lead to your own demise and in the case of relationships two or more people's downfall
No matter how hard it is. Say it and learn to tell the truth to your partner in a clearly formulated way. Not to hurt or provoke but to grow and move forward 
Scroll down for more. Get one of our ebooks if you want to know more.