GET SOME SLEEP FOOL!
GET SOME SLEEP FOOL!
GET SOME SLEEP FOOL!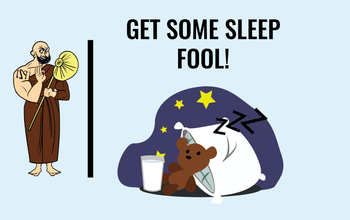 Sleep! You fool! Zzz ZzZZ

Forsaking sleep is not a good idea.  Surviving on 4 hours or less a day is foolish.

Let's be clear, some people can sleep for 4 hours and are as fresh as the Kool and the Gang.  While some people don't have the luxury of sleeping more than 4 hours because of their life circumstances.
Let's be real,  most of us burn the midnight oil unnecessarily or even worse, stay awake to drink, party or binge on tv shows.

Nothing is necessarily wrong with all of the above BUT if you forsake your zzzzzz for it. Now that's not a good idea.


Lebron James once said in an interview that one of the main reasons for his longevity as the best NBA player currently playing is the sleep he gets. He sleeps around 10-12 hours a day. You probably don't need that much.
That being said, most of us would benefit tremendously from better and longer sleep.

Just think about it.  When was the last time you woke up feeling refreshed, energised and ready to conquer the day as opposed to feeling sluggish, groggy and grumpy ?


Many of your daily negativity can be alleviated just by sleeping optimally.  I know it works well for me. Every time I sleep less than my body and mind require, I feel so much more negative.


Not only that.  I find it is harder to be aware and be positive.  My productivity is lower.  I complain more and I am less fun to have around.
A lot of us take sleep for granted thinking that sleep is just a waste of time. We might think that laying on a bed for 8 hours in a row is an impediment to your production and productivity.

 You know what is also valuable?  Your HEALTH.  Now I got your attention. Not only you'll not function as well when you lack sleep but you will also make yourself suffer unnecessarily.

When you don't offer yourself the much needed recovery time. Your stress level goes up as well as your cortisol level. You get fatter, sicker and weaker...


You are running down your own body. You are inviting sickness and cancer openly like a housewarming party with guests that will just stay, squat and eat away all your resources till your house becomes a shit hole.

Lack of sleep is not a badge of honour. You're not superman. You need your sleep. They say sleep is the best supplement you can get and it's free.

Why take it for granted ? Often, the only thing separating your shitty life from a more productive, efficient and positive life is a few more hours of sleep per night.


Get your sleep on.  You fool!
Cheers.