Breathe Motherfuckers
Breathe Motherfuckers
Breathe Motherfuckers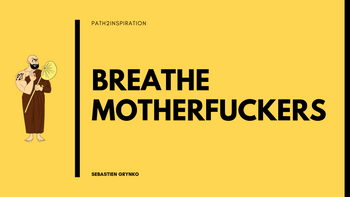 I was listening to a podcast yesterday and Wim Hof was on.
For those who don't know who he is, Wim Hof is the Iceman. He holds more than twenty world records such as climbing Mount Everest wearing only shorts and being able to stay in ice for over 2hours...
Breathe motherfuckers is what he said.
I liked it. It's a bit tongue-in-cheek but it emphasises a great point.
Breathing
Why is the breath such a key factor to our health and well being?
When we meditate, we focus on the breathing. When we want to calm down, we take deep breaths.
So why is the breath so important?
Well for starters, if you don't breathe, you drop dead. That's gotta be worth something, right ?  We could not imagine it to be more than just a body mechanism to keep our lungs fill with air. Apparently there is more to it.

What Wim Hof said was that practicing breathing everyday can change our lives for the better. (I won't get into the details of the specific exercises but I will link the video below.)

Back to the subject.
The mere act of focusing on breathing intensely and intentionally and then holding our breaths can actually make our bodies more alkaline thus keeping a plethora of diseases and physical ailments at bay. And here I was juicing myself to death and it turns out that there is a simpler and faster way to be more alkaline and make the body less acidic.
Meditation is also another practice which focuses on the breath.
We breathe in and breathe out and we keep observing the rising and falling of the belly.
Whatever happens in our meditation we keep reverting back to the breath.
The breath is the base. One of the things we take, most often for granted and yet it is so much more than what it seems to be.
The breath is at the forefront of our health, our well being and our spiritual empowerment.
Isn't it wonderful to know that when shit hits the fan, when all seems to be lost, when there is confusion, anger, anxiety or whatever other ailments you might be suffering from, the only thing you need to do, to get a step ahead and level up is to breathe?
It's a powerful message. One that empowers. We need to stop putting down ourselves as victims.
Our modern environment is not the most conducive to a more wholesome, healthy, spiritual life. That's 100% true.
I really believe that our modern cities are not the best places for us to be self-actualized.
Perhaps one day we will all be able to have modern cities like Wakanda (for all you Marvel fans out there). An ideal or an utopia ? But in the meantime we have to live with our times and our circumstances.
We need to claim the power back into our lives. We are all subject to birth, diseases and death but it does not mean that our lives should be riddled with stress, anxieties, physical ailments, etc.
We can age gracefully. We can live a life full of health, well-being, spirituality and strength. So when all's said and done. The least you can do is breathe.
So
Breathe motherfuckers