A Letter of Support to a Friend With a Broken Heart
A Letter of Support to a Friend With a Broken Heart
A Letter of Support to a Friend With a Broken Heart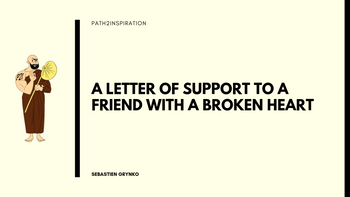 Dear Friend,
I write those words hoping it will bring you some perspective and help you see more clearly to the fog and the blizzard that seems to have taken over your life.
Your year has been difficult. Going through not one but two serious breakups is overwhelming and life shattering.
I am going to begin with some tough love. I have been friends with you for quite some time now and I don't mean to judge but I am only trying to give you an honest assessment that you might not see from your position.
You were with *** for 5-6 years and for those who knew you both. It was pretty clear that you guys should have broken up a few years in, instead of stretching it till the bitter end.
Then you met the other guy. Young, successful and attractive. Finally you thought you found yourself a prince charming. An improved version of ***.
You finally got the love you did not get from your past relationships. Too good to be true ? As it is often the case. Jumping from one relationship to the other is never a good idea.
We know you don't like to be alone but that is probably what you should have done after the first breakup because anything you have felt and lived after that is just a mere illusion.
You said it was magical. Which I thought was funny and pretty accurate because magic is often a manufactured sequence of moments where the seemingly impossible is made to be real, if just for a brief moment.
You told me you never broke up with someone you loved and for the first time you had expectations of a marital future. Moreover you thought there was no real reason to end and part ways with that "special someone".
What if the real reason is not apparent yet ? What if the reason is something you don't see or don't want to see.
You can't post an endless stream of pictures on IG with one guy when you were doing the same thing with another guy a few months earlier and claiming it to be love. Using grandiloquent words and declaration of elation and overwhelming emotions.
How is this love ? No matter how much you claimed you did not see a future with *** . You still stayed with him for a long time and you were very attached to him and his family, forgiving a lot of his shortcomings along the way.
After that you so happened to find someone who seemingly was better and decided that now this was love and maybe it was, maybe it wasn't. At the end it did not last. The magic has faded and you are back to square one with more pain than the first time and more pain you can cope with.
Ok now onto the good stuff. Your ego has been smashed and your heart is broken. Now it is time to rebuild and focus on the foundations you lacked, to begin with.
Ever since I first met you It was obvious that you were insecure and the clingy type. I remember you sending **** send *** and I an email he got from you, professing your love for him and we both told him that it was completely ridiculous since you guys had been "together" for only a few weeks.
It might be a bit blurry for you but I remember your beginnings with *** and they were not as different as your beginning with the other guy. And I am just talking about you not the relationship.
You fall in love way too fast, get attached and clingy and you don't take time. You seem to be in love with the idea of love instead of loving a person because you need to love yourself first before knowing how to love someone else.
I have seen you change a lot since I met you and I can honestly said that you have impressed me. You helped *** stay clear of a lot of bullshit and supported him to start his business and find a better way to live his life. You also started a business and were good at it while you were still working on it.
You were a kid, a teenager when you first came to **** but you did really well to become an accomplished, well rounded woman and you have a good heart with a lot of potential.
You need to go back to ***** and heal. You said that you don't belong there and of course you don't. You have a lot to offer the world and ***** is maybe not the best place for you to do so.
But in the meantime you need to be home surrounded with loved ones. The little money you have right now does not really matter because your life story, your experience and your potential is worth so much more than you can fathom and it is yet to be fully "exploited".
What am I trying to do with those words is not necessarily to sway you to a better place or to comfort you. It might be more painful that comforting. At least for now but it can give you a perspective into yourself and the "predicament" you find yourself in.
Your cloud is heavy with pain, fear and frustration but as they say there is always a silver lining and all I can say at the moment is that you don't need to worry too much because that lining is there and it is shining silver.
You just don't see it and the pain is only here to make you grow. In buddhism we call this growing pains. Life is easy to enjoy when everything is going the way you want it to but the wisdom and love can be found in the depth of your pain.
The beautiful garden of your life needs some dung, some shit, some fertiliser to grow beautiful strong trees.
You have been given the opportunity to start a better relationship with yourself. Nurture it. Know that happiness is found within and not outside of yourself. Your better self is awaiting for you to reveal itself.
A phenix can rise from its ashes and so can you. And as Jimmy Cliff sang I can see clearly now the rain is gone. So always remember that this too will pass.
The pain will subside and give way to better moments, better opportunities and more loving relationships. Take this time to embrace the sorrow. Don't wish it away. This pain is now your teacher and if you let it impart its wisdom, your life will be improved a thousandfold.
Trust the process. Trust yourself. Don't wreck yourself. Life is about the journey. Your path is bumpy and full of pit-holes but it will give you strong legs to walk a higher path.
Don't underestimate the power you have within and don't underestimate what you can learn from this moment. This too will pass and hopefully after some time you will look back at those moments of pain with a smile on your face for it has only made the story of your life more interesting and colourful.
Much love your friend Seb
P.S : I want to end this letter with a poem by Maya Angelou
You may write me down in history
With your bitter, twisted lies,
You may trod me in the very dirt
But still, like dust, I'll rise.
Does my sassiness upset you?
Why are you beset with gloom?
'Cause I walk like I've got oil wells
Pumping in my living room.
Just like moons and like suns,
With the certainty of tides,
Just like hopes springing high,
Still I'll rise.
Did you want to see me broken?
Bowed head and lowered eyes?
Shoulders falling down like teardrops,
Weakened by my soulful cries?
Does my haughtiness offend you?
Don't you take it awful hard
'Cause I laugh like I've got gold mines
Diggin' in my own backyard.
You may shoot me with your words,
You may cut me with your eyes,
You may kill me with your hatefulness,
But still, like air, I'll rise.
Does my sexiness upset you?
Does it come as a surprise
That I dance like I've got diamonds
At the meeting of my thighs?
Out of the huts of history's shame
I rise
Up from a past that's rooted in pain
I rise
I'm a black ocean, leaping and wide,
Welling and swelling I bear in the tide.
Leaving behind nights of terror and fear
I rise
Into a daybreak that's wondrously clear
I rise
Bringing the gifts that my ancestors gave,
I am the dream and the hope of the slave.
I rise
I rise
I rise.