Your magnificent obsession
Your magnificent obsession
Your magnificent obsession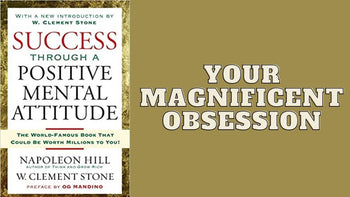 Your Magnificent Obsession
With the idea that we are about to give you, you can have riches far beyond your fondest hope.
This idea will bring you a wealth of happiness. For your personality will expand. And you will receive affection and love, both of a quality and a quantity you have never before dreamed possible.
This principle was expressed dramatically on many occasions by the author, Lloyd C. Douglas. When Douglas retired from the ministry he moved into a more extended form of inspirational teaching: the writing of novels. His ministry had reached hundreds; his books reached thousands; his movies, millions. And to each he preached the same basic message. But it was never so clearly expressed as in the novel The Magnificent Obsession. The principle is so obvious here that those who need it most may not see it at all. It is simply this:
Develop an obsession — a Magnificent Obsession — to help others.
Share yourself without expecting a reward, payment, or commendation. And above all else — keep your good turn a secret.
And, if you do this, you will set in motion the powers of a universal law. For, try as you will to avoid payment for your good deed — blessings and rewards will be showered upon you.
No matter who you are, you can have a Magnificent Obsession. Every living person can help others by sharing a part of himself.
You don't have to be rich or powerful to develop a Magnificent Obsession. Regardless of who you are, or what you have been, you can create inside yourself a burning desire to be helpful to others.
Take, for example, the sinner with a magnificent obsession.
You'll never know his name. That's a secret. When he was asked to help the Boys Clubs of America — an organization the sole purpose of which is the building of character in children — with a small donation, he refused. In fact, he was more than rude to the man who had called to interview him on this occasion.
"Get out!" he said. "I'm sick and tired of people asking me for money!"
As the representative was walking toward the door to leave, he stopped, turned around, and looked kindly at the man sitting behind his desk. "You may not wish to share with the needy. But I do. I'll share with you a part of what I have — a prayer: May God bless you." And then he turned swiftly and left.
You see, with a flash of inspiration the Boys Club representative had remembered: "... silver and gold have I none, but such as I have give I unto you." And a few days later an interesting thing happened.
The man who had said, "Get out!" knocked on the door of the Club representative's office and asked, "May I come in?" He brought with him a part of what he had to share: a check for half a million dollars. As he laid the check on the desk, he said: "I am giving this on one condition: that you never let anyone know that I did it."
"Why not?" he was asked.
"I don't want my name to represent to boys and girls that I am good. I'm not a saint. For I have been a sinner."
And that is why you'll never know his name. Just he, the Boys Club representative, and the Greatest Giver of All know the name of the sinner whose money was donated for the purpose of helping boys and girls avoid doing the wrong things he had done.
Like the Boys Club representative, you may not have money, but you can share by giving a part of what you have. And like him, you can be a part of a great cause. And you, too, when you give, can give generously.
Your most preciously valued possessions and your greatest powers are often necessarily invisible and intangible. No one can take them. You and you alone can share them.
The more you share, the more you will have.
Now if you doubt this, you can prove it to yourself by giving: a smile to everyone you meet; a kind word; a pleasant response; appreciation with warmth from the heart; cheer; encouragement; hope; honor, credit, and applause; good thoughts; evidence of love for your fellow-men; happiness; a prayer for the godless and the godly; and time for a worthy cause with eagerness.
If you do experiment by giving any one of the above, you will also prove to yourself what we have found is one of the most difficult principles to teach those who need it most: how to cause desirable actions within yourself. Until you do learn, you will fail to realize that what is left with you when you share it with others will multiply and grow; and what you withhold from others will diminish and decrease. Therefore, share that which is good and desirable and withhold that which is bad and undesirable.