The law of increase to manifest riches - Joseph Murphy
The law of increase to manifest riches - Joseph Murphy
The law of increase to manifest riches - Joseph Murphy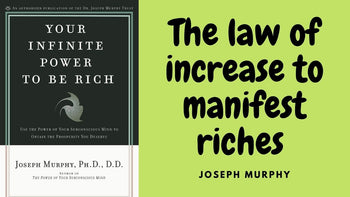 In I Corinthians 3:6 read: I have planted, Apollos watered; but God gave the in- crease. Increase is what all men and women throughout the world are seeking; it is the urge of God within them, seeking fuller expression in all phases of their lives.
Your desire to grow wealthy, to expand, and to unfold is a fundamental impulse of your being. You wish to increase your circle of wonderful friends, you wish more and better food, clothing, automobiles, and homes, and more of the luxuries of life. Moreover, you desire to travel more, to learn more of the inner powers, and to experience a greater measure of beauty. In short, you want to live the life more abundant.
You plant wheat in the soil and water the ground, but God gives the increase in the form of multiplying the wheat grains a hundredfold or a thousandfold. Like- wise, whatever you plant in your mind in the way of thought, feeling, and imagination is increased in manifestation.
Increase means the multiplication of your good, the unfolding of your incipient thought or plan. If no action is initiated, obviously there can be no increase. Begin now to impress your mind with the idea of increase. You can't do it alone, however; it is God that giveth the increase.