Loving and kindness meditation for all (beginners)
Loving and kindness meditation for all (beginners)
Loving and kindness meditation for all (beginners)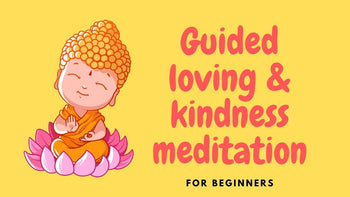 May all beings be well and happy, free from suffering.
That's how we would end a ceremony, when my grandmother used to bring me to our Buddhist temple in Singapore.
We would chant, we would do the offerings and we would end by saying this mantra and meditate upon it for a few moments.
The concept of Loving & kindness has always been something that I hold dear. It is such a beautiful "quality" to have in life. There is a reason why the Buddha called it one of the sublime abidings.
And it does make one life's much brighter and much more colourful. Loving & kindness can be apply for the appreciation you have for other people's joy or the empathy you feel other people' suffering.
Loving & kindness is hard to put into words but we all felt it. Every now and then, we feel this warm feeling of love and appreciation taking over our body and overwhelming us in the best way possible.
Perhaps it happened because someone was being so kind to you or sometimes it just happens out of the blue. I know this because for me, it happens usually quite randomly.
It gets triggered by a thought of a loved one and I get to reminisce of all the good times we spent together and how grateful I am to have lived those moments and how thankful I am to have this person in my life and how beautiful it is to have someone love you and how wonderful it is to love them back in return.
This feeling/vibration is unbelievably powerful. It often brings me to tears. Those who have felt it will be able to relate. When you feel this strong emotion you are at a very high level of vibration.
Your love and appreciation for life, for people, for sentient beings is all inclusive. It's so pure. That's an emotion and a vibration I want all of us to have more of, this new year 2020.
The way I get more often there and sustain it, is by doing insight meditation and loving & kindness meditation. 
I had never practiced LKM until I felt into a depression some 5 years ago. It was not the worst kind of depression but it was still dark and gloomy.
It's like a joyless life where there is nothing to look forward to. It started after my girlfriend broke up with me. My business was not taking off. I was also losing hair and that really deterred me.
The only thing that kept me "positive" was meditation. I was doing both insight and loving& kindness meditation and it took me some time but after a while, things got much better.
I felt joy again and surprisingly, I made new  friends and re-connected with old friends. I was living in Shanghai at that time and I always thought that I could not make real friends here because everybody was so superficial. My limiting belief was gone, destroyed by the love and the kindness.
Not only that but people were genuinely nicer to me, even strangers. I kid you not. You really have to try it and see for yourself.