How to meditate for 5 minutes every day
How to meditate for 5 minutes every day
How to meditate for 5 minutes every day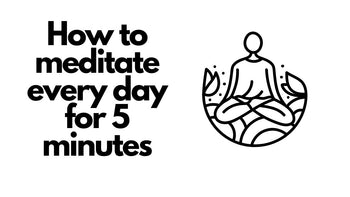 Do it first thing when you wake up Why ?
 Well, first get a good night sleep. Perfect time for meditation Go to the toilet before.
Do what you have to do. Go back to your bed or meditation area
You can place a cushion behind your back
Try to keep your back straight. Cross your legs
Put your hands together between your legs. You don't need to be too strict with your posture and hands but you need to find the most relaxing position for you which does NOT mean going back to sleep.
We're meditators not nazis. Close your eyes. Pay attention to the rising and falling of your stomach as you breathe in and out. Whatever happens you'll always go back to following the rising and falling
Obviously other things will happen. No matter what happens you'll just notice it and go back to the rising and falling
If it is a thought just say to yourself thinking.. if it is image just say to yourself seeing. If its a noise just say to yourself hearing.
You get the gist of it.
 Do not let anybody fool you. When you begin that's all you need to do. Be aware and be kind. Accept everything and know everything
You won't be able to always be 100% aware sometimes you might be 1% aware. That's when the kindness should kick in.
You are not trying to achieve anything in meditation.. just be aware.
To recap
Find a good position. 
Close your eyes
. Relax your body
. Rising and falling of the stomach. Observe, note and let go