Is meditation better than sex?
Is meditation better than sex?
Is meditation better than sex?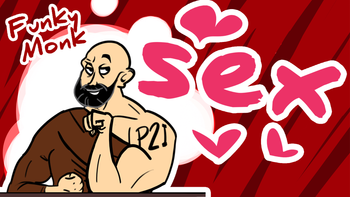 I have heard from a buddhist monk named Ajahn Brahm that meditation is supposedly more pleasurable than sex.
Now, that's not something you would usually hear from somebody let alone a 60 years old monk!
 So is it true ?
Does meditating really have the potential to give an intense amount of pleasure akin/ or higher than sex?
First of all, I have to clarify that the monk who stated this was a layman till he was ordained as a monk in his mid-twenties. Therefore he already had "references" to give that statement.

Studies have been made on meditation practitioners to reveal their level of happiness. One in particular was done on Mathieu Ricard, a Frenchman who became a Tibetan monk nearly 40 years ago.

The scans on his brain showed an excessive activity in his brain's left prefrontal cortex compared to its right counterpart, giving him abnormally large capacity for happiness and a reduced propensity towards negativity.

Mathieu Ricard believes that meditation can alter and improve people's happiness in the same way that lifting weights develops muscles.

Let me modify this statement.  Mathieu Ricard will have to pardon me for giving a little twist to his statement because I don't believe this analogy does meditation justice.

Lifting weights will only give you a finite amount of muscles (even on steroids) whereas meditation can bring amounts of joy, bliss and rapture that you cannot even fathom.
Meditation has been a very trendy subject these past years. However, I still think the term is often loosely interpreted and few people actually practice it and even fewer actually stick to it.
And I'm not casting any stones here. I'm just observing. I do think meditation is probably the best thing you can do in life.
It is a sure way to a better life and one with more meaning and inspiration. Although I can understand its appeal as a mean for relaxation and relieving your stress. The benefits far exceed the more "superficial gains" you reap from the practice.
You can read about the benefits all day long, there's an abundance of them but I think it would only set your expectations too high. Which is not something you want in meditation and dare I say in life?
The benefits are subtle, long-lasting and life-changing but you are not going to levitate, clear your mind, open your third eye, open a million chakras after a few days at a retreat!
We have to keep it real. Is meditation amazing?  Yes, 100% but like any other good things in life, you have to be consistent (not persistent) and stick to it.
Is it better than sex?  It can be. It can be much, much better than anything you have experienced but it won't come as easily as buying drugs from the street. 
But if you do stick to the practice and reach those mountains of deeper insights and bliss then you're on the path to enlightenment and you can in turn help others.
Guide them to climb this seemingly insurmountable Everest.