9 affirmations for prosperity and wealth by Joseph Murphy
9 affirmations for prosperity and wealth by Joseph Murphy
9 affirmations for prosperity and wealth by Joseph Murphy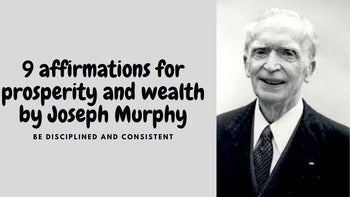 The subconscious mind and wealth by Joseph Murphy
The trouble with most people is that they have no invisible means of support when business falls away, or the stock market drops, or they lose their investments; they seem helpless. The reason for such insecurity is that they do not know how to tap the subconscious mind. They are unacquainted with the inexhaustible storehouse within.
A man with a poverty-type mind finds himself in poverty-stricken conditions. Another man with a mind filled with ideas of wealth is surrounded with everything he needs. It was never intended that man should lead a life of indigence. You can be wealthy, have everything you need, and plenty to spare. Your words have power to cleanse your mind of wrong ideas, and to instill right ideas in their place.
I have talked to many people during the past thirty-five years; their usual complaint is, "I have said for weeks and months that I am wealthy; I am prosperous, and nothing has happened." I discovered that when they said, "I am prosperous; I am wealthy," they felt within that they were lying to themselves.
One man told me, "I have affirmed until I am tired that I am prosperous. Things are now worse. I knew when I made the statement, that it was obviously not true." His statements and those of the others were rejected by the conscious mind, and the very opposite of what they affirmed and claimed was made manifest.
Auto-suggestion succeeds best when it is specific, and it does not produce a mental conflict or argument; hence the statements made by this man made matters worse, because they suggested his lack. The subconscious accepts only your convictions and beliefs, not just words or statements. The dominant idea or belief is always accepted by the subconscious mind.
The following is a way to overcome this conflict for those who have this difficulty. Make this practical statement frequently, particularly prior to sleep: "By day and by night I am being prospered in all of my interests." This will not arouse any argument, because it does not contradict the subconscious mind's impression of financial lack.
I suggested to one business man whose sales were very low, and he was greatly worried, that he sit down in his office, get quiet, and repeat this statement over and over again: "My sales are improving every day. I am advancing, progressing, and getting wealthier every day." This statement engaged the cooperation of the conscious and subconscious mind; results followed.
The above is a very simple, unique way of impressing the subconscious mind with the idea of wealth. Perhaps you are saying as you read this chapter, "I need wealth and success." This is what you do: Repeat for about five minutes to yourself three or four times a day, "Wealth—Success." These words have tremendous power.
They represent the inner power of the subconscious mind. Anchor your mind on this substantial power within you; then conditions and circumstances corresponding to their nature and quality will manifest in your life. You are not saying, "I am a success," or "I am wealthy." You are dwelling on real powers within you. There is no conflict in the mind when you say, "Wealth," or "Success"; furthermore, the feeling of wealth and success will well up within you, as you dwell upon these ideas.
The feeling of wealth produces wealth; the feeling of being successful produces success; keep this in mind at all times. The subconscious mind is like a bank—a sort of universal bank; it magnifies whatever you deposit or impress upon it, whether it is good or evil.
You sign blank checks when you make such statements as: "There is not enough to go around;" or "There is a shortage;" maybe, "I will lose the mortgage;" etc. If you are full of fear about the future, you are also writing a blank check, and attracting negative conditions to you. The subconscious mind takes your fear and belief as your requests, proceeding in its own way to bring obstacles, delays, lack, and limitation into your life.
To him that hath the feeling of wealth, more wealth shall be added; to him that hath the feeling of lack, more lack shall be added. The subconscious mind gives you compound interest also. Every morning as you awaken deposit thoughts of prosperity, success, wealth, and peace; dwell upon these concepts; busy your mind with them as often as possible. These positive thoughts will find their way as deposits in your subconscious mind, and bring forth abundance and prosperity.
I can hear you saying, "Oh, I did that and nothing happened." You did not get results, because you indulged in fear thoughts perhaps ten minutes later, and neutralized the good you had affirmed. When you place a seed in the ground, you do not dig it up.
Suppose, for example, you are going to say, "I shall not be able to make that payment!" Before you get further than, "I shall—" stop the sentence, and dwell on a positive, constructive statement, such as, "By day and by night I am being prospered in all my ways."